The most populous country in the world, China has seen some amazing changes in recent years, and is one of the fastest developing countries in the world. That said, while the east coast of China is littered with skyscrapers and bullet trains, the further west you go, the further back in time you seem to travel. You could spend years travelling through this vast culture and barely scrape the surface of what is to be discovered, from the various cuisines across the country to the countless temples, mountains, parks, buildings and museums there are to visit. It's a breathtaking (and exhausting!) experience to visit China, so try not to cram too much into your visit, and save some time for simply soaking up the crazy, exciting atmosphere.
China Fact File
Religion
74% non-religious / Chinese folk religions (such as Taoism, Confucianism, Chinese Buddhism)
Currency
Renminbi/Yuan (CNY)
Climate
Dry seasons with wet monsoons, temperatures varying greatly across the country, with colder weather and seasonal heavy snow in the north, and warmer, tropical climates in the south
What to do?
A visit to Chang Cheng, the Great Wall of China, is a must for any visitor, but pay attention to different options as to which section you go to. Some parts of the wall are rough and ready, crumbling away, and a worthy pursuit for keen walkers. For a gentler visit, there are also popular, touristy sections with cable cars.
If you're visiting in winter, don't miss out on the Harbin Ice Festival where crowds are brutally overwhelming but the sculptures are amazing.
Animal lovers will enjoy a visit to the Chengdu Panda Breeding Research Base. Generally speaking, zoos should be avoided in this country which isn't very animal friendly, but the panda sanctuary is truly worth a visit.
In Chongqing, the Three Gorges Dam area is so perfect, it looks like something from a CGI movie. A riverboat cruise is the ideal way to see the rock formations.
The Terracotta Army in Xi'an is a popular destination, but if you can't bear the crowds, instead visit the Tomb of Emperor Jingdi which has another terracotta army, but much smaller.
There are countless things to do in Beijing, but The Summer Palace is one spot you don't want to miss out on.
In Shanghai, Wai Tan (The Bund) is an epic place to view the changing architectural face of China and marvel at some of its most famous skyscrapers, such as the Oriental Pearl Tower, which you can also go up.
In Hangzhou, host of the G20 summit in 2016, West Lake is a truly gorgeous place to visit, with the touristy side near the singing water fountain, all the way around to secluded, shady walks and unrivalled serenity.
Suzhou is known for its stunning gardens, and you can easily visit two or three in a single day trip. We recommend the Humble Administrator's Garden, The Garden of the Master of the Nets, and Lion Grove garden.
Dark tourism is a draw for many people, and if you find yourself in Nanjing, a visit to the Nanjing Massacre Museum will be an informative experience.
Hikers, listen up - there are numerous Mountains in China that are waiting to be explored. Top picks include: Huang Shan, Emei Shan, Tianmen Shan, Tai Shan and Yu Long Xue Shan.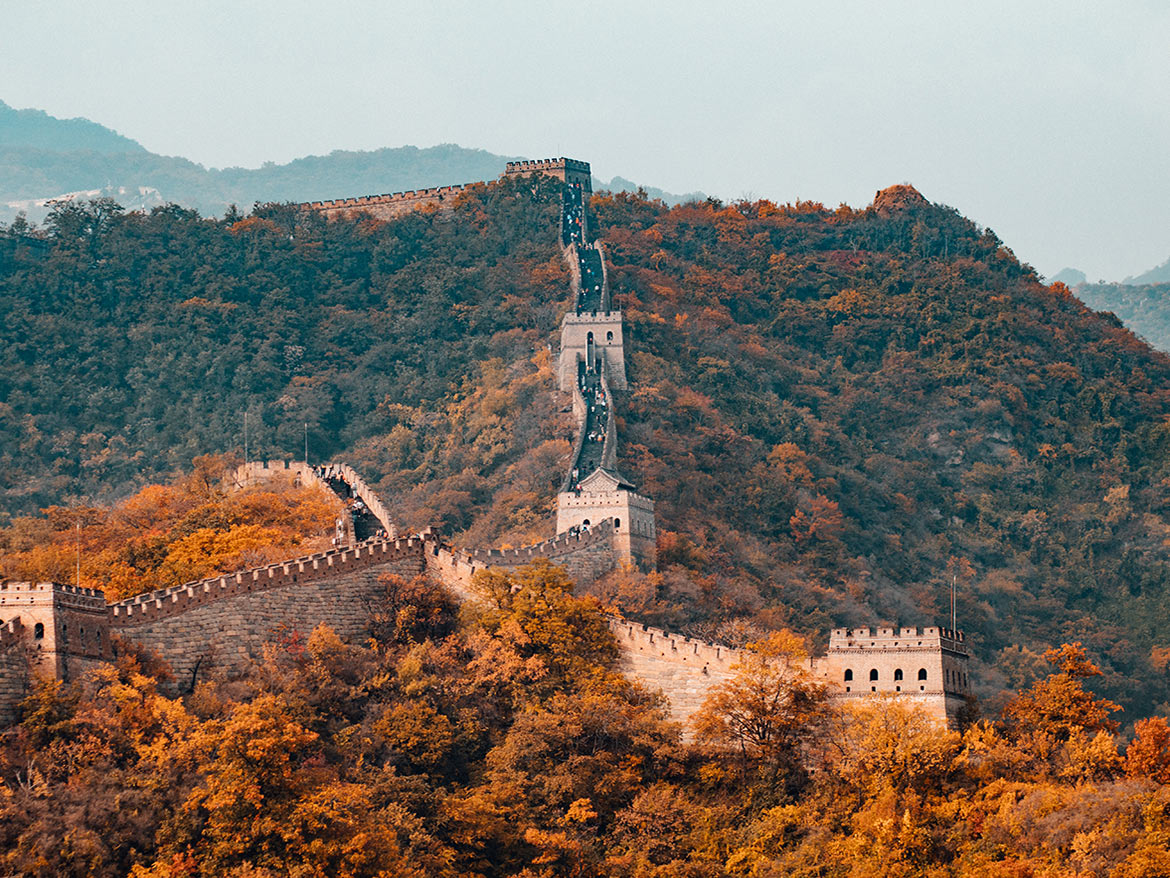 Culture
China is known for its imperial history - the Emperors and Empresses leaving their mark on the land and culture over time, and the dynasties that followed. Conquered by the Mongols in the 13th century, dynastic rule ended in 1912 with the birth of the Republic of China. In this time there was much political upheaval, with the Chinese Civil War and then later the Sino-Japanese War, in which it is estimated that 20 million Chinese civilians were killed. In 1949, Mao Zedong became the chairman of the communist party, and while his social reform project known as the Great Leap Forward resulted in an estimated 45 million deaths, many people in China still celebrate him today. Now known as the People's Republic of China, this is a country that has seen vast changes in recent decades, and maintains a high rate of economic growth.
To talk of 'Chinese food' doesn't really make sense because China is so vast, and different areas of China have such different cuisine. The 'Chinese food' that is popular in many Western takeaways is most similar to Cantonese food (from Hong Kong) with sweet, inoffensive flavours that Westerners like. In Sichuan, hot pot is the famous dish, and is usually very spicy. In the south, fish and seafood is popular, whereas inland, fish is usually not a good option - it's too far from the coast to be fresh! Take note of the rice/wheat line of China - in the south and east, people eat rice at least once a day because of the prevalence of rice paddies, but in the north and west, it is far more common to grow wheat, and so noodles are eaten more often. In general, there are considered to be eight different cuisines across China (of which we've already mentioned Cantonese and Sichuan, and Fujian which is the fishy dishes from the south). Also of note is the Zhejiang style, which is sweet, not too spicy, and includes the delicacy of Hangzhou xiao long bao dumplings. For something wild, try 'stinky tofu'!
For souvenir shopping in China, you can't go wrong with any of the following options: green tea (try to get Longjing tea from Hangzhou, or blossoming flower balls), silk handkerchiefs, ties, shirts and nightgowns, decorative chopsticks, a calligraphy set, jade jewelry, Chairman Mao memorabilia, tea sets, panda toys, dragon toys, paintings, fans, decorative parasols, embroidery work, and hilariously badly translated slogan t-shirts.