One of only two doubly landlocked countries in the world (a country where the surrounding countries are also landlocked), Uzbekistan is located in Central Asia and is a former Soviet republic. Known for its dramatic desert landscapes, breathtaking architecture and ancient cities, one of the most fascinating things about the country is its connection to the Silk Road.
Across the ages, merchants would travel this famous route which spanned from south-eastern Asia to eastern Africa and southern Europe. The Silk Road is a big draw from modern-day tourists, as although the Chinese section is more famous, it was the Uzbekistan leg of the trading route that was one of the major trading centres, and a popular stop-off for merchants.
Uzbekistan Fact File
Climate
Continental, low precipitation
What to do?
Uzbekistan is a country rich with culture, and there are numerous historical buildings and sites to visit on your trip. Monuments, statues, mosques, minarets and museums can be found across the country, with some of the best tourist spots including:
Shah-i-Zinda in Samarkand is a street of ancient tombs boasting some of the most exquisite majolica tilework that you'll see in the entire country
Itchan Kala in Khiva is an ancient town boasting imposing city walls and impressive fortress architecture
Registan in Samarkand is one of the best places in Uzbekistan to see Islamic art and experience the magnificence of traditional Uzbek architecture
Gur-E-Amir in Samarkand dates to the 1400's and is a beautifully restored mausoleum with heavenly blue tilework
The Kalon Minaret in Bukhara is so impressive that even Genghis Khan couldn't bring himself to destroy it
The Ark Fortress in Bukhara is an impressive ruin that is no less magnificent for its dilapidated state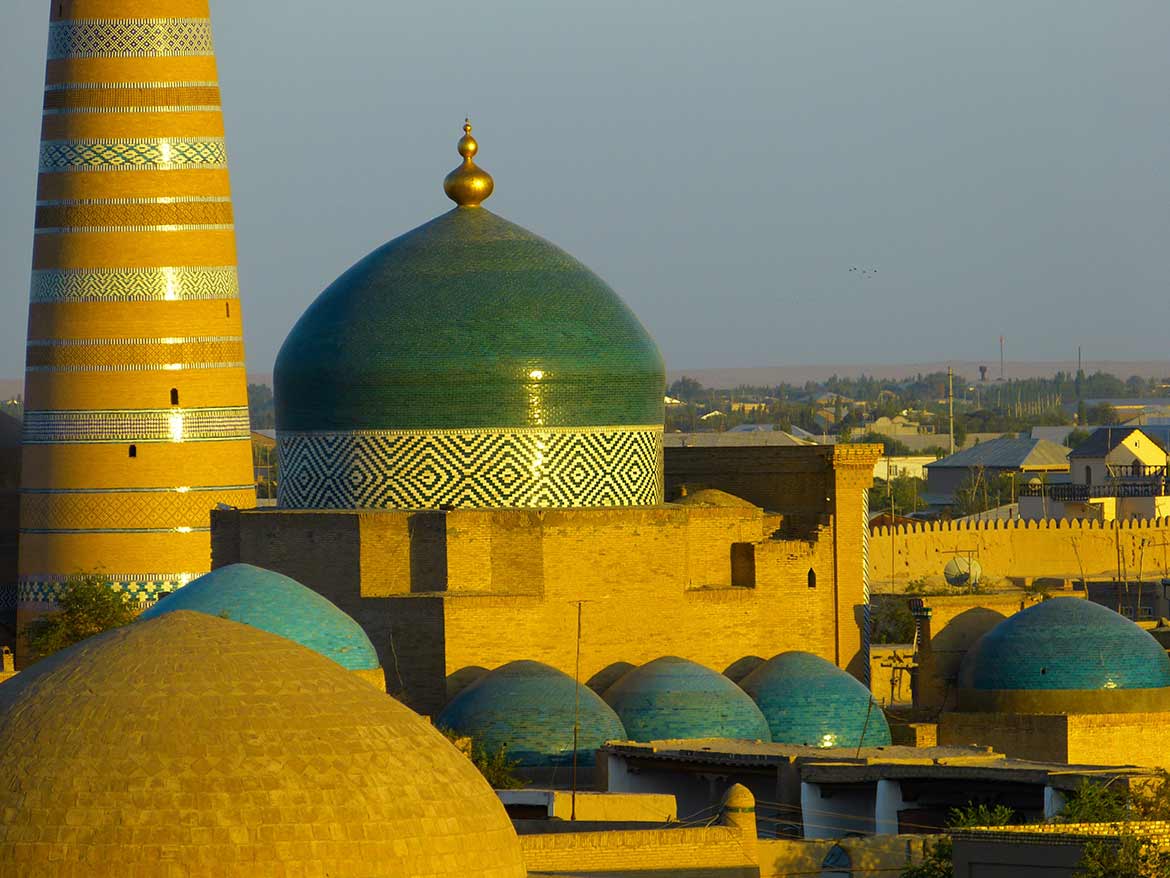 Culture
Uzbek cuisine is noodle heavy, and bread is also popular because of the grain growing culture. Mutton is the most popular meat and palov is a typical Uzbek dish. Traditional crafts in Uzbekistan include embroidery, lacquerware, ceramic art, carpet weaving and Samarkand paper production – great ideas for souvenirs!